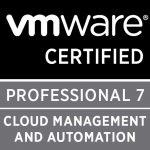 Today I passed the VMware Certified Professional 7 Cloud Management and Automation Exam in short VCP7-CMA. The required score was 300 points and I scored 418 points! The exam is about automation of your cloud management platform with VMware Products: vRealize Automation (vRA), VMware vRealize Business (vRB) and vRealize Orchestrator (vRO) but there are also many questions about integrations with other VMware products like VMware NSX-V, VMware vCloud Air and of course VMware vSphere.
To be honest this was not my first attempt at the VCP7-CMA exam. In VMworld 2017 Barcelona, I already did the exam but I failed with just under 300 points, that was quite frustrating.
VCP7-CMA Exam:
The VMware VCP7-CMA exam consists out of 85 multiple-choice questions and you need to score at least 300 points. The maximum score is 500 points and you have 110 minutes to complete the exam. In the VMware VCP7-CMA exam guide are all the exam subjects listed so make sure you understand all of them. The main focus is on the vRealize Automation product. Make sure you study the right version because the exam is based on vRealize Automation 7.X and at this time the newest version is vRealize Automation 7.3. A big surprise to me was the questions about vCloud Air… because at the time I took the exam vCloud Air was not a part anymore of VMware (it was sold of to OVH) and all the documentation related to vCloud Air was removed… mmm nice.
VCP7-CMA Study Tips:
For passing the exam, I have used the following websites:
Make sure you understand all the subjects in the Exam Guide. For almost all subjects there is a VMware Hands-on lab environment for available.
If you ask me, this is the most difficult VCP exam that I have completed until now.