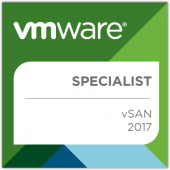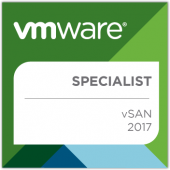 This afternoon I took the VMware vSAN 2017 Specialist and I passed with a score of 456 points. The exam is about… guess what Virtual SAN (vSAN)! To be more precise the latest version of vSAN version 6.6. The exam is a mix of deployment & design questions. In my opinion it is a smaller version of the separated Deploy & Design exams as in the major exam tracks (DCV, NV, CMA, DTM). The questions were really good and realistic, some examples: like about space efficiency, cluster sizing and some customer use cases. The exam contains 60 questions and you have 105 minutes to complete the exam.
Over the years I have done a lot of vSAN deployments, starting in the vSAN 5.5 days. So personally it was not the most difficult exam to pass but a good one to add to my résumé.
Exam description
The official exam description from VMware: "The VMware vSAN 2017 Specialist badge holder is a technical professional who understands the vSAN 6.6 architecture and its complete feature set, knows how to conduct a vSAN design and deployment exercise, can implement a live vSAN hyper-converged infrastructure environment based on certified hardware/software components and best practices, and can administer/operate a vSAN cluster properly."
The Specialist Exams
At VMworld 2017 three new specialist exams were announced by VMware Education:
VMware vRealize Operations 2017 Specialist
VMware vSAN 2017 Specialist Exam
VMware Validated Designs for Software-Defined Data Center 2017
Currently the remaining two are on my "To Do" list because they all cover my area of expertise. The vSAN Specialist exam is the only one of the three that is done at a test center, the other two are online exams.
Study Material:
There is a lot of free vSAN 6.6 content available, especially the VMworld 2017 sessions are full of useful information. Take a look Duncan Epping his YouTube Channel (the URL listed below).
Duncan Epping – YouTube Channel

VMworld 2017 – STO3054BE – What's New in VMware vSAN 6.6
VMworld 2017 US – STO1264BU – The Top 10 Things to Know About vSAN
VMworld 2017 – STO1926BU – VMware vSAN 6.6: A Day in the Life of an I/O