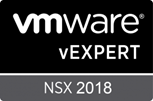 I am happy to announce that as of today I entered the VMware vExpert NSX sub-program. Thanks, VMware for the award and congratulations to everyone else who also made it! Also an extraordinary achievement for our team at ITQ, we managed to get seven consultants in the vExpert NSX 2018 sub-program! This year VMware awarded 169 people worldwide for the vExpert NSX sub-program.
vExpert NSX:
Since when does the vExpert NSX sub-program exist?

The VMware vExpert NSX sub-program was introduced in the year 2016 and announcements are made every year.

So what is the difference between the vExpert NSX sub-program and vExpert program?

The program is built upon the vExpert program. To apply you must be a current vExpert as well as evangelizing VMware NSX.

What is VMware expecting of a vExpert NSX?

Each of these vExperts has demonstrated significant contributions to the community and a willingness to share their expertise with others. Contributing is not always blogging or Twitter as there are many public speakers, book authors, scriptwriters, VMUG leaders, VMTN community moderators and internal champions among this group.
Related links